In this issue:
Sermon Outlines:
Noteworthy News:
Sacrifice: Lose a Hand to Save a Life
---
Truth is not Advanced by Accommodating Error
Joe R. Price
The gospel continues to spread around the world as faithful Christians live in truth and teach the saving gospel to the lost. As it was in the first century, it will continue to be so until the Lord returns (Matt 28:19-20). God's way of saving the lost remains the message of the cross. The sword of the Spirit cuts to the heart of the sinner to expose and remove sin by the power of the blood of Christ and faith in His name (Acts 2:37-41; Rom 1:16; 1 Cor 1:21-24; Heb 4:12).
The unyielding march of truth in the first century is unmistakable; it gave no quarter to the corrupt doctrines of men. Whether in the Jewish synagogues (where unbelievers were confounded with the truth that Jesus is the Christ, Acts 17:2-4), or among the Greek philosophers of the day (as on Mars Hill, Acts 17:22), or among brethren who showed themselves to be false due to their teaching of Judaizing error (Acts 15:1-6; Gal 2:4-5), the truth of the gospel advanced because brethren contended earnestly for the faith (Jude 3-4). They did not relinquish the high ground of truth. Neither must we.
How misguided it is for Christians now to think that false doctrine among brethren is just "the way it is and has always been." They forget the examples of unity among the saints in Acts 2:42; 4:32-37; 9:31; Ephesians 4:1-6. Today these brethren prefer to accommodate or ignore error under the guise of "love" and "unity"; the very idea! (Phil 2:1-5; 1 Cor 1:10-13; Eph 5:11)
The cause of the gospel is not advanced but hindered when brethren have fellowship with those who teach and practice error. "Now I urge you, brethren, note those who cause divisions and offenses, contrary to the doctrine which you learned, and avoid them" (Rom 16:17). We cannot ignore those whose error divides and destroys: we cannot cajole them, comfort them or promote them. When the sword of the Spirit is sheathed for the sake of "peace" in spite of the presence of doctrinal and moral error, there is no peace (Jer 8:9-12)! With compromise comes death (1 Cor 15:33; 2 Jno 9-11).
The gospel of Christ tears down the strongholds of Satan when used to persuade unbelievers, skeptics and false teachers (2 Cor 10:3-6). Souls are saved when no place is given to the devil. However, the lost and misguided will never be rescued and saved if our words and deeds give them comfort and confidence to continue in their error and sin.
---
God's Plan of Salvation


Joe R. Price

"What must I do to be saved?" A more important question could not be asked or answered. It (or its variation) was asked and answered three times in the book of Acts, Acts 2:37-38; 9:6; 16:30-31. Each time an answer was given that depended on the person's position on the way to salvation.

The question implies several important things worthy of our consideration:

1) Some things that must be done in order to be saved. Man bears responsibility for his salvation. Action on man's part is necessary in order to be saved (Heb 5:9).

2) What must be done is essential to be saved. "Must" is not discretionary, it is mandatory.

3) Obtaining salvation is an individual privilege and responsibility. "I" must do what is needed for "me" to be saved. Someone else cannot do what is necessary for me, and I cannot do what is necessary of others.

4) Salvation is not received until God's conditions of salvation are fully met. One cannot fail to fully obey the Lord's plan of salvation and expect to be saved. One might as well conclude God's plan of salvation is not necessary as to say one may be saved without doing all that God says is necessary.

God has done His part. Have you done your part and obeyed His plan of salvation? Are you saved? If not, do so now.

Chart by John Gentry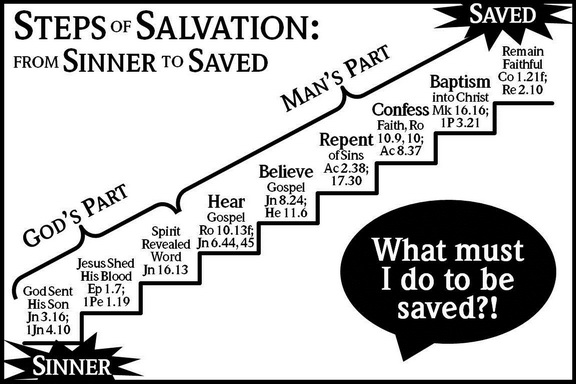 ---
You can find the complete outline of this sermon plus PowerPoint and MP3 Audio files at BIBLE ANSWERS
Faith at Work (1) - Lessons from James
Scripture Reading:
James 1:2-8
1. Faith is at the center of the Christian's life, Jno 20:30-31; Eph 2:8; Heb 11:6.
2. The Epistle of James: Faith must work; it must produce; it must be visible.
3. James: Faith at work.
I. FAITH ENDURES TRIALS, Jas 1:2-11.
A. The Discipline to Remain Joyful, Jas 1:2-4; Jno 16:22, 33; 2 Cor 4:16-18.
B. The Discipline to Continually Pray for Wisdom, Jas 1:5-8; Prov 2:6-9; Psa 119:98; Prov 8:17; 1 Jno 5:14-15.
C. The Discipline to Know that Possessions Test Faith, Jas 1:9-11; Lk 1:52; 1 Cor 3:21-23 (Eph 1:3; 2:6); Phil 3:7.
II. FAITH UNDERSTANDS AND ENDURES TEMPTATION, Jas 1:12-20.
A. Blessing of Resisting Temptation, 1:12; Rom 5:3-4; 2 Tim 4:7-8.
B. Temptation is Common to Us All, Jas 1:13-16; 1 Cor 10:12-13.
III. FAITH OBEYS THE WORD, Jas 1:21-27.
A. People of Faith Lay Aside Sin, 1:21; 1 Pet 2:1; Col 3:5-9; Eph 5:6-11; Rom 12:2.
B. People of Faith are Doers of the Word, Jas 1:22-24; Matt 7:21-27; Jno 13:17.
C. People of Faith Live Pure Religion, Jas 1:26-27; cf. Micah 6:6-8; Matt 6:1-4.
Conclusion
1. Faith is put to the test every day.
2. Faith (at work) overcomes the world, 1 Jno 5:3-4.
---
You can find the complete outline of this sermon plus PowerPoint and MP3 Audio files at BIBLE ANSWERS
Jesus the Preacher
Scripture Reading: Matthew 7:24-29
1. God's word made known through preaching, Titus 1:3 (Rom 10:13-15).
2. Preaching was a central part of Jesus' work, Matt 4:17. (Lk 14:25; Jno 6:66)
3. What do you want from a preacher? What do you try to accomplish when you preach?
I. HIS PREACHING WAS AUTHORITATIVE, Matt 7:28-29.
A. Authority of Heaven was behind what He Said, Jno 12:48-50; 1 Tim 4:11; 5:7; 6:2; Tit 2:15.
II. HIS PREACHING WAS URGENT. (2 Tim 4:2)
A. Urgent in Content, Lk 4:16-19.
B. Urgent in Manner, Jno 7:28, 37; 12:44.
III. HIS PREACHING WAS INSTRUCTIVE, Matt 5:2; 13:54.
A. Jesus Imparted God's Will, Matt 4:23; Mk 4:2. Matt 13:9-10; Jno 16:29-30 (Acts 10:33).
IV. HIS PREACHING WAS COMPASSIONATE, Matt 9:35-38.
A. Compassion for Sinners without Condoning Sin (Lk 15:1-2); Jno 8:7, 11.
B. We must always be Sensitive to the Plight of the Lost and the Weak, Rom 10:1; 1 Ths 2:7.
V. HIS PREACHING WAS VEHEMENT WHEN NECESSARY.
A. Jesus Denounced Sin in the Strongest Terms, Matt 15:7-9, 12-14; Acts 20:27.
VI. HIS PREACHING WAS DEMANDING, Matt 7:13-14, 21.
A. Jesus Demanded Repentance, Mk 1:15.
B. Jesus Demanded Self-Denial, Matt 16:24.
VII. HIS PREACHING HAD A COMMON TOUCH, Mark 12:37; 1 Cor 2:2.
---
NOTEWORTHY NEWS
(Current events in the light of Scripture)

Sacrifice: Lose a Hand to Save a Life


Joe R. Price <![if !mso]> <![endif]>

Army Ranger Sgt. First Class Leroy Petry, who lives in Steilicum WA, is the latest recipient of the Medal of Honor. Petry is a hero. He saved the lives of fellow Rangers in Afghanistan when he threw away an enemy grenade that landed nearby; his right hand was blown off.

Sacrifice. It seems instinctive in the person who gives of himself for others. But one is born with it. No, the soldier's willingness to sacrifice himself for others is developed through years of training and commitment to the greater good. Sacrifice becomes his nature.

So it is with the sacrifice of the Christian. "I beseech you therefore, brethren, by the mercies of God, that you present your bodies a living sacrifice, holy, acceptable to God, which is your reasonable service. And do not be conformed to this world, but be transformed by the renewing of your mind, that you may prove what is that good and acceptable and perfect will of God" (Rom 12:1-2). Such sacrifice does not "just happen"; it is the result of one's faith in Christ and commitment to the greater good – the will of God. Sacrifice becomes his nature.

Sacrifice for Christ means giving of ourselves for one another (and even for our enemies, like Jesus did on the cross). When we sacrifice for "one of the least of these my brethren," we sacrifice for Christ (Matt 25:34-40).

Jesus said we must lose our life through self denial to find it (Lk 9:23-24). Heroes of faith "suffer the loss of all things" to gain Christ (Phil 3:7-8). Be a hero of faith. Sacrifice yourself for Christ and save a life – your own.
---
Created by Chuck Sibbing. 07/18/2011
The Spirit's Sword is a free, weekly publication of the Mt. Baker church of Christ, Bellingham, WA
Send all questions, comments and subscriptions to the editor at: ssword@bibleanswer.com