"There's a Snake in My Boot!"
Sermon Outlines:
Noteworthy News: "Ethically Sourced" Porn OK, says ELCA Pastor
---
The Father and the Son
Joe R. Price
Jesus was persecuted, including attempts on His life, because He broke Jewish traditions while healing on the Sabbath (Jno. 5:16, 1-15; 7:19-24). Jesus did not stop doing the work His Father gave Him to do in the face of these evil, faithless reactions. By continuing the Father's work He did not glorify Himself, but sought to glorify "the One who sent Him" (Jno. 7:18). Therefore, He answered His persecutors with, "My Father has been working until now, and I have been working" (John 5:17). The Jews properly concluded Jesus was "making Himself equal with God" by calling God His Father (Jno. 5:18). This enraged them against Him even more. Nevertheless, Jesus was not deterred. He began to itemize how He and His Father are indeed "one" (John 10:30).
They do the same work. "Most assuredly, I say to you, the Son can do nothing of Himself, but what He sees the Father do, for whatever He does, the Son also does in like manner." (John 5:19) [See John 9:4.]
They have the same love. "For the Father loves the Son, and shows Him all things that He Himself does; and He will show Him greater works than these, that you may marvel." (John 5:20) [See John 14:9-10; 13:34-35.]
They have the same power over life. "For as the Father raises the dead and gives life to them, even so the Son gives life to whom He will." (John 5:21) [See John 5:24-26.]
They execute the same judgment. "For the Father judges no one, but has committed all judgment to the Son…" (John 5:22) [See John 5:27-30; 12:48-50.]
They are worthy of the same honor. "…that all should honor the Son just as they honor the Father. He who does not honor the Son does not honor the Father who sent Him." (John 5:23) [See John 12:23, 28; 13:31; 17:2.]
Those who minimize (or even eliminate) the fullness of the deity of Jesus when He was on the earth dishonor the Son and the Father (Jno. 5:23). They should abandon their error and return to these straightforward statements concerning His divine nature. "For in Him dwells all the fullness of the Godhead bodily" (Colossians 2:9). To deny Jesus Christ was equal in deity with the Father is to join hands with His persecutors and murderers (Jno. 5:16-18; 10:30-36).

---
"There's a Snake in My Boot!"
Joe R. Price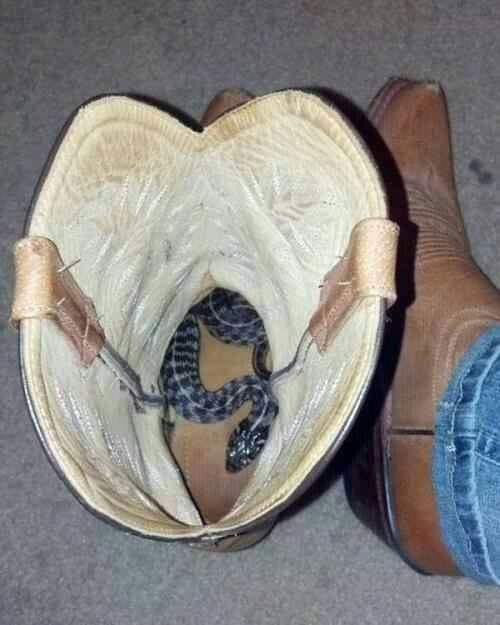 I posted this photo of a snake in a boot on Facebook a few days ago. The reactions included, "Yikes!" "Yuck!" "Scary!" "Be careful!" "Is that your boot. I posted it as a reminder to be careful where we put our feet. For example, when we put our feet on the path of sinners we will share their evil, shame and demise (Prov. 1:15). On the other hand, when we walk with wise men we will be wise (Prov. 13:20).
Upon seeing this image, a Christian friend reminded me of the children's song, "Be careful little feet, where you go!" Good, sound advice for young and old alike (Eph. 5:15; Psa. 1:1-2).
When I first saw this photo I asked myself: "What kind of spiritual footwear do I wear? Am I going into the world with the gospel of peace, prepared to stand against the devil" (Eph. 6:15)? Or, am I taking on the appearance of a snake, adapting to the scenes of the world around me, easily blending in with this present age? Evil companionship corrupts good morals (1 Cor. 15:33-34). We must walk in the gospel to withstand the assault of the devil (Eph. 6:10-13).
The photo also calls our attention to snakes in the Bible. Here are some that come to mind:
1) The snake in the garden (Gen. 3:1-5). This serpent was a liar who deceived Eve to sin against God and thereby experience its shame, sorrow and death (Gen. 3:6-13). This "snake" was real, not a motif or symbol of evil borrowed by Moses from ancient traditions. His lies are cunning and aimed at corrupting the simplicity of truth we have in Christ (2 Cor. 11:3). So, we must be sober and watchful, lest "the serpent of old, called the Devil and Satan" devours our souls (Rev. 12:9; 1 Pet. 5:8).
2) Moses' rod became a snake (Exo. 3:1-5). This sign was given to convince Israel that God had appeared to Moses and sent him to deliver His people from Egyptian bondage (Exo. 4:29-31). Likewise, when Aaron's rod became a serpent it swallowed up the Egyptian magicians' serpents (Exo. 7:8-13). God gives sufficient signs for us to believe in Christ and to follow His word (Jno. 20:30-31; Mk. 16:17-18; Heb. 2:3-4).
3) The snake on a pole (Num. 21:4-9). God sent deadly snakes among the people of Israel because of their rebellious conduct. Confessing their sins, God told Moses to put a snake on a pole so the person who was bitten, "when he looks at it, shall live" (Num. 21:8-9). This deliverance from death by grace through faith serves as a type of salvation in Jesus (Jno. 3:14-21). God loves us and saves the one who looks at Jesus (believes Him and "does the truth," Jno. 3:16, 21).
4) A snake in the heart (Jno. 12:2, 27). The devil did not force his way in the Judas' heart. Judas let the devil into his heart long before the betrayal kiss (Jno. 6:70-71; 12:4-6). Has the cold-blooded serpent already found a warm nest in your heart?
Woody (the Toy Story character) said, "There's a snake in my boot!" Is there one in yours? Be careful where you put your feet!

---
You can find the complete outline of this sermon plus PowerPoint and MP3 Audio files at BIBLE ANSWERS

Things I Must Have to Follow Truth


Joe R. Price

Scripture Reading: Ephesians 4:17-24

1. Truth is practical and life changing, Heb. 4:12.
2. Forming Christ within us is the essence of discipleship, Gal. 4:19 (3:27; Col. 1:27).
3. Means living by God's word, Matt. 4:4.
4. Tools needed to follow God's truth.

I. I MUST HAVE A GOOD HEART, Lk. 8:15.

A. A Heart that is Open and Willing to Hear the Scriptures and Hold them Fast, Lk. 8:15; Matt. 23:25-26; 2 Tim. 3:16-17; Psa. 51:10-13.

II. I MUST HAVE AN OBEDIENT FAITH, Heb. 11:6.

A. Trust What God Says Will Work; Col. 3:12-15, 18-19; 1 Cor. 15:58; 1 Jno. 5:4.

III. I MUST HAVE COMPLETE COMMITMENT, Matt. 6:19-24; Rom. 12:11 (purpose, Acts 11:23).

A. We Pursue what is Valuable to Us, 6:19-24.
B. Zealous Christians Constantly Uses God's Word, Heb. 5:13-14; 6:1-3.

IV. I MUST HAVE SERIOUS BIBLE STUDY, 2 Tim. 2:15.

A. Bible is the Final Authority, Jno. 6:63, 68.
B. Study with the Goal to Know and Obey God's Truth, 2 Tim. 2:15 (Jno. 7:17); Gal. 4:19.

V. I MUST HAVE SELF-EXAMINATION AND SELF-CORRECTION USING GOD'S WORD, Jas. 1:22-25.

A. Don't Waste Time Comparing Your Life to Wrong Things: Others (2 Cor. 10:12); Worldly wisdom (Col. 2:8); Opinions of men (Prov. 14:12); Your own feelings (Jer. 10:23)…

Conclusion
We can do nothing without Christ in us, Jno. 15:4-5; Eph. 3:17, 20-21.
---
You can find the complete outline of this sermon plus PowerPoint and MP3 Audio files at
BIBLE ANSWERS
Scripture Reading: Philippians 2:5-11
1. Jesus is unique ("only begotten"). Jno. 1:14, 18
2. Completely human/completely deity, Col. 2:9.
3. Incorrect to say that the Son "gave up His deity" to come to earth.
4. Correctly see that the Son gave up the glory of deity to become human (added humanity; became flesh), Phil. 2:5-11; Jno. 17:5. Luke 3:38
I. JESUS: THE ONLY BEGOTTEN OF THE FATHER, Jno. 1:14, 18; 3:16.
A. Son of God: Deity, Jno. 1:34; Heb. 1:1-2.
-Sent by Father Jno. 8:42 (26, 23); 17:3; Eternally with Father Jno. 17:5 (1:1); Same nature as Father, Jno. 1:1; 5:18; 10:30, 33, 36.
B. Son of Man: Humanity, Gen. 3:15; 22:18; 2 Sam. 7:12; Lk. 2:4-7; Gal. 4:4; Matt. 1:1.
C. Only Jesus is both Man and God, Lk. 1:31-32, 35; Lk. 3:38; Gal. 4:4; 2 Sam. 7:12-14; Matt. 22:42-45.
II. WHAT THIS TELLS US ABOUT JESUS.
A. Because He was Man, He Lived a Physical Life, Heb. 2:14, 17; 4:15.
B. Because He was God, He Exercised Power Over the Physical World, Matt. 11:4-5; Jno. 4:46-54; 20:30-31.
III. WHAT THIS MEANS TO US.
A. Hebrews 1: Son of God (Deity). [So we can live, 1 Jno. 4:9]
B. Hebrews 2: Son of Man (Humanity). [Perfect offering, Heb. 5:8-9]
Conclusion
1. Our faith is in Immanuel (God with us), Matt. 1:23; Jno. 8:58; 1 Tim. 3:16.
2. Must believe this or die in our sins, Jno. 8:23-24.
---
(Current events in the light of Scripture)
"Ethically Sourced" Porn OK, says ELCA Pastor
Joe R. Price
Evangelical Lutheran Church of America pastor Nadia Bolz-Weber heads a congregation with many LGBT members and which features a "Minister of Fabulousness" (a drag queen) ("Liberal Lutheran pastor: It's okay to look at porn, especially if it's 'ethically sourced'," Doug Mainwaring, litesitenews.com). Spewing profanities in an interview on a pro-LGBT website (cited in the above article), the Colorado female pastor advocates viewing pornography should not be a shameful thing. She says by taking the shame out of porn you will have less compulsive behavior to consume it. "There is ethically sourced porn…There are people who say it's sexual immorality, but if you take Liberals and Conservatives who show outrage and made a Venn diagram of those who consume pornography, you'd see a huge overlap" (Ibid). Hypocrisy does not validate sin, nor does removing shame over sin change its nature (Jer. 8:11-12; Isa. 5:20-21).
Pornography is not ethically sourced, it is carnally sourced (Gal. 5:19; Rom. 1:24-28). It is not decent, it is not fitting, and it is not moral. Christians are tempted and succumb to its allurement. Parents must take steps to guard their children from being ensnared by it. Adults must refuse this enticement of the flesh (Job 31:1; Prov. 6:25).
Bolz-Weber disdains the Bible. "If the teachings of the church are harming people, then we need to rethink those teachings" (Ibid). That attitude toward the Bible is pervasive. She and her cohorts must undermine the Bible because it clearly condemns her immoral endorsements. (We are not surprised she says the Bible is not clear about much of anything.) We are committed to the teachings of Christ, not the "teachings of the church." It is the Lord Jesus in His inspired Scriptures who ordains what we believe and teach (Matt. 28:18-20; Heb. 1:1-2; 2 Tim. 3:16-17). Jesus says porn is evil (Matt. 5:28) – that's "God-sourced" truth.

---
Created by Chuck Sibbing, last updated. 11/11/2018
The Spirit's Sword is a free, weekly publication of the Mt. Baker church of Christ, Bellingham, WA
Send all questions, comments and subscriptions to the editor at: ssword@bibleanswer.com